Is your PPC strategy working for you?
Pay-per-click advertising is big business.
Not only has it famously contributed the lion's share of Google's revenue (and a higher share of its profits) but it's a hyper-competitive and constantly evolving market, for reaching people at work as much as consumers.
It has been shown that around 71% of B2B buyers start their research with a generic search
But getting more out of PPC is about more than refining your keywords.
How many page impressions are your ads generating?
What click-through rate is your account achieving and at what ROI?
What are your conversion rates?
It could be that your ads are working but not as hard as they should. For example, you could have good reach but poor conversion – if so then something along the journey needs fixing.
A PPC audit can help you focus on what's working best, and change what's not working at all.
A good PPC audit should consider the following factors:
Search triggers
Creative and CTAs
Competitors
Budgets
Account structure
Best practices and latest releases
Google Display Network (GDN) and re-marketing
There's life beyond Google
This guide will take you through those elements and what you need to be thinking about.
1) Search triggers
Whilst search ads can be triggered by a host of factors beyond keywords, it's still the best place to start.
Think laterally to find those words that have high relevance but low cost. Look at your copy and your competitors' to see what they are using and what this might be costing them.
Think about geotargeting, demographic, psychographic and behavioural triggers for your ads.
Remember to make sure your landing pages are mobile friendly. Google's algorithms will take this into consideration.
Most importantly, make sure you know what the return is on your ads. Are you getting good value? Make sure your analytics are set up correctly to track keyword conversion funnels.
2) Creative & CTA
Does your creative make it clear what you want the reader to do? Is your call-to-action obvious?
Are your targets browsing or looking for something specific? If so, what do they want? Make sure what you're offering is obvious in your copy.
Attract their attention!! This is the first rule of advertising. Boring ads do not work.
Use your creative to demonstrate that you understand your customers pain points and needs. Lastly, make them click. The CTA (call to action) has to make the user do something.
There are a range of psychological tricks and triggers that can be used to make your creative more urgent, more relevant and more likely to be clicked.
3) Your budget
Think about your maximum daily budgets, are they set correctly for you to make the most from your PPC ads?
Have you considered using day-parting where you can control the spend at a specific hour of the day and the day of the week?
You want to focus your budget around key times throughout the day and week where you will receive a good conversion rate and when you know the quality of conversions are high.
There is no point spending budget on weekends if your B2B business is not going to benefit from the traffic.
4) Account structure
Your account structure plays a key role in account performance and efficiency – essentially it can influence the quality score of keywords.
Are your campaigns broken out so that they mirror the structure of your website? Do your campaigns have only one theme? Multiple themes can cause issues.
How many different match types are you using? Are they kept separate? How many keywords and ads do you have per ad group?
Are there any conflicting negative keywords or are multiple ad groups firing for the same search query?
All of these are important structuring questions that you should be asking yourself and with an optimal structure in place, efficiency and performance will improve.
5) Best practices & latest releases
It's an exciting time for PPC marketers like myself. New technology updates such as the rise of automation and machine learning bring new opportunities to make campaigns more effective and cost-efficient. It's crucial to keep your account up to date in the competitive marketplace.
For example, are you up to date with the many smart bidding strategies that have been made available? Are you using the best setup and settings for those strategies?
Is your account using Google's best practices? E.g. are you using the recommended number of keywords and ads per ad group or the recommended campaign settings?
Search and display ads have undergone numerous changes over the last couple of years. With the introduction of expanded and dynamic search ads and most recently the release of responsive search ads and extra headlines.
6) Automation
Automation can be very beneficial. Don't waste your time and money by repeatedly carrying out optimisations and manual tasks that can be readily automated with Google Ads' Scripts.
Are there any forgotten about rules or scripts running in the background that make changes to your account that you are unaware of?
Do you have the necessary measures in place to detect if one of your campaigns are down or if you are massively overspending? make sure you have anomaly detectors or alert scripts to ensure you're always in the know.
7) Google Display Network (GDN) & remarketing
It's also important to audit your GDN campaigns, check to see if your settings are correct e.g. do you have a frequency cap in place? Showing your ads too many times to the same user can have a negative effect on your brand and campaign.
You should also be checking the ad types in place – do they have best possible messaging and are you taking full advantage of all the ad types/sizes available?
Have you got an efficient and tactful re-targeting strategy in place?
Are you targeting audiences at all?
These questions might sound obvious, but you'll be surprised by the number of times we see clients who think they know the answer proved wrong when we've run an audit for them.
8) There's life beyond Google
Did you know that Bing accounts for 33.9% and 24.7% of UK search traffic?
Many assume Google is the only consideration when it comes to PPC and often neglect Bing, despite having between a third and a quarter of search traffic. And because there are less advertisers on Bing, it's cheaper and there's less competition!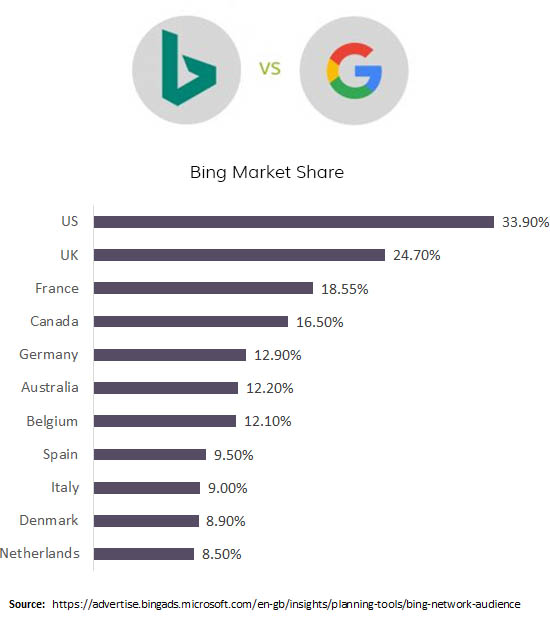 (Admittedly these stats are from Microsoft – so take them with a pinch of salt).
Why you should audit your PPC strategy
PPC is much more than just keywords.
A well produced audit can help refine your ads and make them work better for you by considering all of the factors mentioned in this guide.
Key benefits:
A fresh pair of eyes – a new view of the account can unearth subtle flaws that could be costing you a lot of money.
Stop unwanted traffic – minimise exposure to irrelevant traffic.
Better campaign structure – one that allows for improved scalability.
Receive a FREE PPC audit from Kingpin!
At Kingpin we offer a free PPC audit for all B2B technology vendors. It's completely free and can take less than 72 hours – by the end of which you will receive a document with analysis and recommendations.
The process is simple. Provide our specialist Search Marketing team with access to your Google Ads account and your preferred KPIs. Then we will conduct the audit and report back to you quickly.
Also read: 3 differences between Bing Ads Scripts and Google Scripts you need to know
Source: https://insights.kingpincomms.com/post/102f5gz/should-you-audit-your-ppc-strategy-the-8-factors-you-should-consider