As self storage operators, you want to get the most out of your pay-per-click (PPC)budget. Unfortunately, there isn't one right way to do it.
It is imperative to be aware of what is pulling in customers and what isn't. You could be wasting money on your PPC ads and not even know it!
The most targeted prospective customer would be one who is actively searching the internet for self storage, that is in your local region, and someone who is pretty far in their customer journey and is most likely ready to move-in.
Below we have listed six tips to help you improve your PPC campaigns and turn those leads into rentals.
1. Understanding What PPC Means
Pay-per-click (PPC) is an online advertising method where companies and brands bid money for specific keywords or key phrases that appear in the ad copy.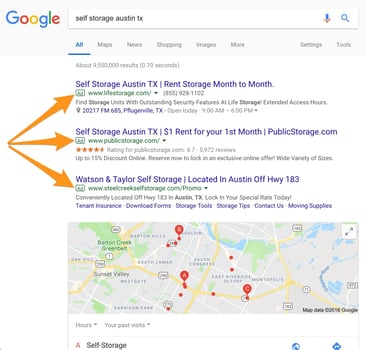 You will usually see PPC ads on search engines above the fold of a search results page (see image), but they can also arise in other eye-catching locations.
Also notice that the top search result will say "Ad," and for every click on that link, the advertiser is paying for each time that link is clicked on.
A PPC ad will stay in its place until you set the end date for those purchased keywords.
Any search results below the fold are the free organic search results from your search.
It is important to know that PPC ads appear on not only Google but also Bing and Yahoo.
2. How To Get Started
Google commands 64% of the desktop search market, so Google Ads is the easiest way to get started. All you need is a website representing your self storage company, and you can immediately begin advertising.
You can set up your Google Ads yourself, or you can hire an agency to set it all up for you to manage and run. Google even offers free courses that you can take to become Google Ads certified. The courses will give you all the knowledge you will need to run your campaigns successfully.
3. Setting A Budget
It is crucial to set a budget on your PPC spend since the ability to spend a lot on Google Ads can be very easy to do. By establishing a proper budget, you will avoid paying too much, and it'll protect you.
Since you are competing on keywords to target, you have to plan wisely. You do not want to waste your PPC spend by targeting keywords that may not be relevant to your local customers.
Be sure that your ad copy reflects your customers who are in the area that you are running advertisements in.
4. Location Extensions
Utilizing location extensions is a great way to maximize your digital marketing for your self storage facility.
Location extensions will be your best ally when you are setting up your PPC ads. StoragePug recommends that you include your correct address, phone number, operating hours, and any additional information useful to your local customer.
It is also essential to set up call extensions with a forwarding phone number so you can track the number of calls you are receiving which could be converting into sales.
5. Setting Up A Keyword List
Keywords are critical to any PPC ad campaign, so it is vital to building a strong keyword list.
It is easy to get overwhelmed with all of the different keywords that you can use, but its best to try and simplify it as much as possible. Focus on just a few keywords.
SelfStorage.org states, "In terms of keywords, consider buying your brand name and also some of the prevalent terms like "self storage," "self storage unit," and "self storage facility."
Another critical point is to have local keywords such as landmarks, streets, or district names which can increase your visibility with your local customers.
6. Measuring Your Results
Measuring the results of your PPC campaigns are just as important as when you had initially set up an ad budget. There are many ways you can measure your ad results, and one way is to ask each customer that walks in how they had heard about you and where or if they saw one of your ads.
You will be amazed at the number of people who will say they saw your ad while googling for a self storage unit near their location area. If you have never worked with Google Analytics before, this is a free tool you can use to track how many people are clicking on your ads and even see as far as what they did on your website!
There are so many options available to measure your results, but using the reports Google Ads and Google Analytics offers are two of the easiest and simple to get started.
Conclusion
In typical marketing style, there are many nuances and experiences that come into play when creating ads. As such, don't follow these tips once.
Creating a great ad campaign is an iterative process, so going through these steps multiple times is the best way to create the best campaign possible.
If you have any questions, comments, or concerns about digital marketing, get in touch with us!
Also read: TIPS FOR PPC IN Q4
Source: https://www.storagepug.com/blog/six-ways-to-improve-your-self-storage-ppc-campaigns